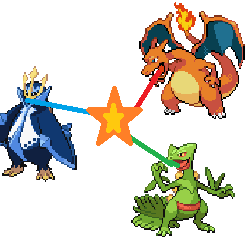 I'm working on this bit by bit if you would like to help you're more than welcome! Isshu Pokedex is not ready but it's coming out soon and all the pokemon are numbered in the order of the National Dex each pokdex only shows the pokemon exclusive to that pokedex so geodude was in the kanto pokedex first but it's in the pokedex of johto pokedex in the game but i'm not repeating them the pokemon will show in the pokedex they first appeared in but numbered Nationally.
Kanto Pokedex
Edit
Johto Pokedex
Edit
Hoenn Pokedex
Edit
Sinnoh Pokedex
Edit
Isshu Pokedex
Edit
Mixed Pokemon (Don't do numbers on these pokemon)
Edit
Ad blocker interference detected!
Wikia is a free-to-use site that makes money from advertising. We have a modified experience for viewers using ad blockers

Wikia is not accessible if you've made further modifications. Remove the custom ad blocker rule(s) and the page will load as expected.